KØXB - Rick at Lake Vermilion, Minnesota USA
(Published in the Gray Line Report, September, 2013)
Rick Borken KØXB
Fifty-two Years and Counting
When I was six or seven years old, my parents gave me a marvelous toy. It was a plastic box with a speaker and a microphone, and it had a second microphone and speaker connected to it on the end of a long piece of wire. You talked as loud as you could into one of the microphones, and the person at the other end might be able to hear you, barely. It didn't have any batteries, so it must have relied on acoustic energy. My best friend Jim (now KCØAA) and I spent hours with it. We'd route the wire around corners, into other rooms, through a window to the outside, and talk and talk and talk.
I remember someone was watching us (It might have been my grandfather, but I cannot say for sure), and they told us about ham radio operators. That is when I got the idea of becoming a ham. It took another ten years to get my license, but I have been fascinated with this hobby ever since.
The next big step for me was when I got my first "real" shortwave radio. It was an RME-45 receiver. I had been listening to shortwave broadcasts on my parent's Philco and my great aunt's Westinghouse console radios, but this looked like something a ham would use. It even had a crystal phasing control, whatever that was. I strung a long-wire antenna outside, and I spent my free time listening to broadcasts from all over the world. I kept a log; I sent reports to the stations I received; and I started to collect QSL cards. This was also an excellent way to learn geography. (Where in the world is the Windward Islands, anyway?)
As a member of the Boy Scouts, you had to learn Morse code in order to earn a First-Class badge. I think I would have learned the code anyway, since I wanted to earn my ham license. But this was an incentive to get it done right away. My Dad gave me a key and other equipment so I could practice, and it didn't take much time. After all, memorizing twenty-six things is not that hard. My friend Bob was a scout and wanted to be a ham too. Soon, he and I were communicating back-and-forth in code. I passed the tests and was licensed as a Novice with the callsign WNØAPN from Duluth, Minnesota in September, 1961.
My Dad and I installed my first antenna, and it worked well enough to have fun. I was on the air by November. I had a used Heathkit DX-40 and my RME-45. Chris VE4NE (SK) answered my CQ on 80 meters for my very first QSO, and by the end of 1961 I had worked eighteen states and provinces in the US and Canada. When I worked CO2BB in Havana in November, 1963, I caught the DX bug, and I worked hams in seven other countries in Europe and South America by the time I left home and went away to college in 1964. I've been an avid DX-er ever since.
<![if !vml]>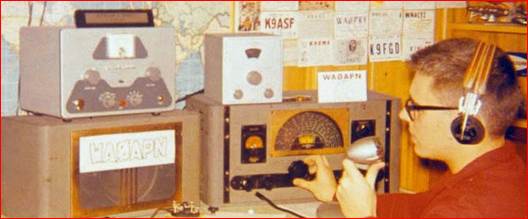 <![endif]>
I passed the General tests and changed my call to WAØAPN in 1962. I had a DX-40 with a VF-1 VFO (if you looked at it the wrong way, it would change frequency) and an RME-45 receiver.
I wanted to be a Physicist from at least the time I was in Junior High. That was my focus in college and graduate school, so I had little time for ham radio. I received Bachelor's and Ph.D. Degrees in Physics from the Massachusetts Institute of Technology in 1968 and 1972 respectively, and I am currently a member of the MIT Educational Council. That means I interview high school seniors who are applying to MIT. As a graduate student, I received a National Science Foundation Fellowship. I hold three U.S. patents, and I had nine articles published in scientific journals.
Most of my career was with the Honeywell Corporation in Minneapolis and Albuquerque. I am proud to say I received the H.W. Sweatt Award from Honeywell for outstanding technical accomplishment. Later in my career, I had the pleasure of overseeing the Sweatt Award program. When I retired in 2000, I was a Vice President in Honeywell's Corporate Technology Office in Minneapolis. Prior to that, I was Vice President of Operations in Albuquerque, a Director of Engineering and a Chief Engineer in Minneapolis, and I held several other engineering and scientific positions. Before joining Honeywell, I worked in the Physics Department at the University of Wisconsin - Madison, at MIT Lincoln Lab and at MIT.
Now, back to ham radio. I finally got back on the air for good in 1970, using a windowsill helically-wound vertical antenna and a Heathkit HW-16 transceiver from our apartment in Boston. On a good day, it might put out 20 Watts on 15 meters, but I was able to work lots of DX, at least it seemed that way to me. I worked fifty-two countries, including Europe, Africa and Japan by the time we left Boston in 1972.
My next QTH was Madison, Wisconsin, where I worked in the Physics Department at the University of Wisconsin. We rented half of a duplex, and the landlord allowed me to put up a dual-band dipole for 15 and 20 meters on the roof. By that time, I had built a Heathkit HW-101, and I had fun working DX during the little free time I had. However, the job was much different than I expected, and my career was going nowhere. It seemed like the state treated every other employee better than the University staff. So I started to look for a different job. The very best thing about that time in our lives was our daughter was born.
MIT asked me to return. But Honeywell offered me an excellent position as a scientist in their Systems and Research Center in Minneapolis, so we moved to the twin cities in 1977. At first, we lived in a rental townhouse in Brooklyn Park, and it was a challenge again to get on the air. I managed to run a semi-invisible wire up to a tree, which worked as a vertical, sort of.
Working for Honeywell at that time was great. I had a supervisor who I admired, and my co-workers were hard-working and very capable. We were part of a state-of-the art corporate research organization, and, in hindsight, I realized the environment I had enjoyed so much at MIT was much more like a corporate lab than most other academic organizations. I was back in an exciting organization, and I enjoyed it.
As we moved back to Minnesota, I requested and was assigned the callsign KØXB. All the callsigns with my initials were taken, and the X-calls had never before been assigned to hams, since they had been reserved in the past for experimental stations. I thought it was a good choice, and I still do. My very first QSO using KØXB was on 2 meters with Hans KØHB.
We bought our first house a few months later in St. Louis Park. Now, I could finally set up a real ham station. Using my HW-101 and a vertical in a ground plane configuration on the roof, I achieved DXCC by early-1980.
We moved to a different house in St. Louis Park in 1986, and Mike KØBUD, Harry KØVZT, Erv KØIVO, and Steve KØSF helped me with my first tower and beam, which was a 50 ft. Universal with a KT-34A Yagi on top. I talked to BY9GA in China the next day, so I knew it was working. In 1987, Ken WØKW helped me make my first RTTY QSO. RTTY quickly became my favorite mode, and I earned RTTY DXCC in 1990. I've worked 323 countries on RTTY so far.
In 1993, Honeywell offered me a transfer to Albuquerque as Vice President of Operations. This was a complete surprise, but it was a really good opportunity, the kind you don't turn down. A major move like that was disruptive at first, but it turned out to be one of the best experiences in our lives. My wife and I still visit New Mexico as often as we can. My most memorable QSO from New Mexico was working RØMIR/1 on the Mir Spacecraft on 2 meter packet. Probably the most interesting thing regarding ham radio was my effort to get a slashed zero on my K0XB New Mexico license plate. It wasn't easy, but I did it. (And I still have that plate.)
New Mexico's population is about one-third of Minnesota's, and I learned that has interesting political implications because your vote is worth three times as much. Leading up to an election, the Honeywell plant always invited the candidates to spend time in our cafeteria during lunchtime, and they all came. One day I was eating my bowl of soup, and a person sat down next to me and introduced himself as Senator Pete Domenici. I met him several more times, and I also met the governor more than once.
The other thing I found out when we lived in New Mexico was that there are people in the rest of the country who apparently don't know it is part of the United States. That's sad but true.
<![if !vml]>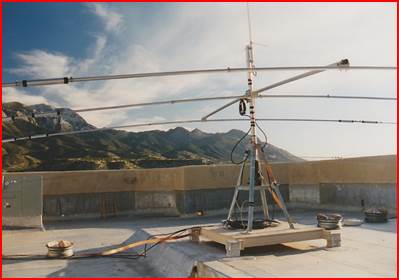 <![endif]>
The house we bought in New Mexico was a traditional New Mexican design, with parapets along the side of the flat roof, and the parapets hid my beam. I don't think anyone ever knew it was there. The antenna is an A3S, and that's the Sandia Mountains in the background. The house was at 6,000 ft., and the mountains went up to 10,000 ft.
The company transferred me back to Minnesota in 1998, and we bought a house in Plymouth. Al KØAD and Scotty WAØPLR helped me with my Universal tower, and I also put up my trusty KT-34A.
When I left Minnesota, Mike KØBUD helped me sell my tower and beam to a new ham. His name was Don, but I don't recall his callsign. From New Mexico, I often joined Mike's Sunday morning net, and when I told Mike we were moving back to the cities, he told me Don had never put up the tower and beam. I contacted him and told him I'd like to buy them back for what he paid me. He agreed immediately, so I can thank him for free indoor storage during the five years we were gone.
Honeywell was acquired by AlliedSignal in 2000, which gave me an opportunity to retire, which I quickly took. Although the newly-formed company used the Honeywell name, AlliedSignal was a much larger company and dominated the organization. It was time to leave. After I retired, my wife and I moved "up north" to our lake home on Lake Vermilion in northern St. Louis County. Soon after we moved, I was pleased to be offered a visiting professorship by a well-known smaller university in the twin cities. I would have enjoyed that, but it was not practical since we had already moved.
I tell my neighbors I'm a professional ham radio operator and a professional fisherman. I can't say my fishing skills are exceptional, but my ham station is the best I have ever had. My primary rig is a Ten-Tec Orion II transceiver, along with Elecraft KPA-500 and Alpha 87A amplifiers, and a 3-element SteppIR Yagi antenna on top of a 60 ft. Universal tower. A sloper for 80 meters and an inverted-L for 160 hang off the tower. Hans KØHB, Steve WØHT, Chuck WØWQ and Scotty WAØPLR helped a great deal with the tower and antenna. So far, my most exciting QSO from Lake Vermilion has been working P5/4L4FN in North Korea on 15 meter RTTY.
<![if !vml]>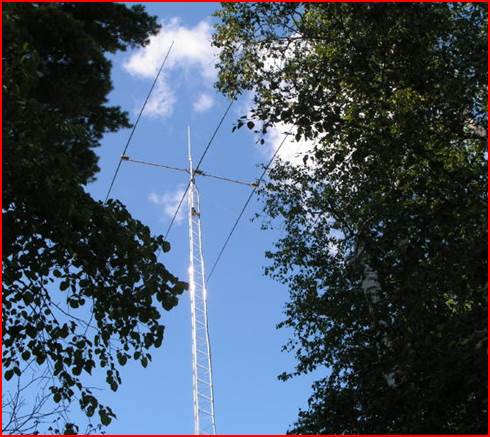 <![endif]>
My 3-element SteppIR is at the top of a 60 ft. Universal tower. The tower base is in the back of our lot, approximately 50 ft. above the surface of the lake, so the beam is 110 ft. above the lake. It works very well.
We love living on Lake Vermilion, but we both grew up in Duluth, and my wife and I have had enough of severe winter weather in northern Minnesota. So we spend the winter in San Diego. I bring an IC-7000 transceiver and a small portable vertical antenna with me, and I operate from there during the winter. I've worked 209 countries and all forty zones as KØXB/6 with this simple station, which I find amazing.
Overall, I have worked 348 different countries, with 336 on CW, 330 on Phone, and 323 on digital. I have 338 of the 340 current countries worked so far. (I still need Bouvet and the South Sandwich Islands.) I earned a place on the DXCC Honor Roll in 2003, and I have also earned 8BDXCC, RTTY DXCC (#315), CW DXCC, Phone DXCC, QRP DXCC, Diamond DXCC, a 2,000 medallion for DXCC Challenge, and WAZ.
I hope you can tell how much I enjoy this wonderful hobby. It seems to me that's the whole point – to learn new things, to challenge yourself and have fun.
<![if !vml]>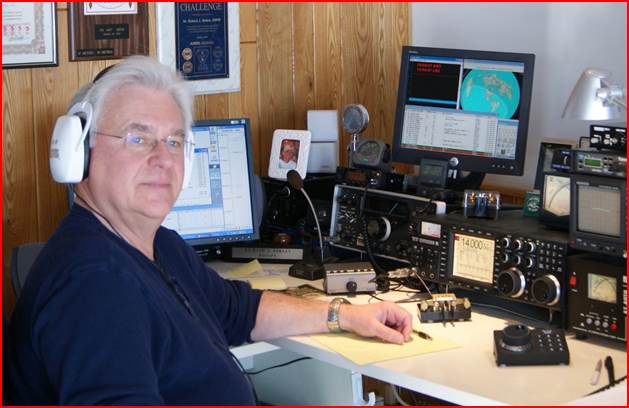 <![endif]>
Thanks es 73, Rick KØXB