KØXB - Rick at Lake Vermilion, Minnesota USA
---
Welcome to KØXB's Web Site!
Greeting (turn on your speakers)
---
e-mail   my day job  QSLs  Ham Radio
<![if !vml]>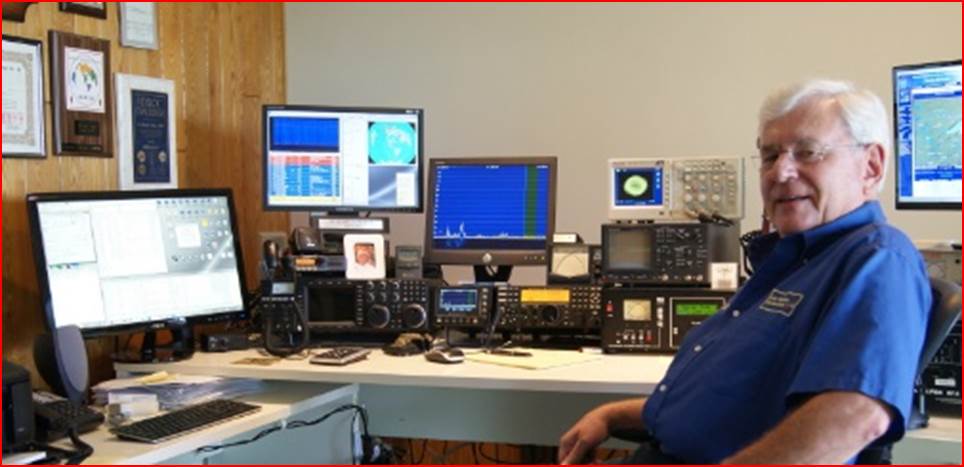 <![endif]>
Rick Borken
Amateur Radio Station KØXB
Lake Vermilion, Saint Louis County, Minnesota USA
Greetings, and welcome to my web page!
I received my amateur radio license in 1961. There have been lots of different callsigns and different QTHs, but it is hard to believe so many years have gone by. It's been fun every day.
I am a Physicist with Bachelor's and Ph.D. Degrees from MIT, and I had a rewarding career in the aerospace industry. At one point, I launched sounding rockets from White Sands Missile Range, so I guess that means I'm a rocket scientist.
My wife and I moved to our lake home when I retired. My QTH is on the shore of Lake Vermilion, which is a large and beautiful lake in the wilderness of northern Minnesota and in the Canadian Shield - just a few miles west of the Boundary Waters Canoe Area Wilderness. We are north of the Laurentian Divide, which means water flows north, ending up in Hudson's Bay.
Loons are a favorite summer visitor. Eagles and osprey fly over the lake almost every day, and deer, bear, moose, fox and wolves live in the nearby forest. Fishing is good too. Walleyes are the most popular game fish, but northern pike, muskies, crappie and bass are plentiful. During fishing season, you can find me in my fishing boat a lot.
I recently operated as KØXB/6 in Coronado, California, and I have operated in the past as KØXB/5 from the desert in Albuquerque, Placitas and Santa Fe, New Mexico. Here's a PowerPoint presentation I gave the San Diego DX Club about my portable setup.
My home station includes Elecraft K3 Transceiver and P3 Panadapter, along with Elecraft KPA1500 and Elecraft KPA500 amplifiers. A Ten-Tec Orion II sits on my desk, ready for use as a back-up rig. I also have one of Icom's IC-7300 transceivers which I used with SteppIR's CrankIR portable vertical antenna when I operated my portable station in California.
A 3-element SteppIR Yagi on top of a 60 foot Universal tower is my main HF antenna covering 6 through 40 meters, and I have a sloper for 80 and an inverted-L for 160.
DX-ing has always been my primary ham radio interest. I am on the Mixed DXCC  Honor Roll, and I have also earned 8BDXCC, RTTY DXCC (#315), CW DXCC, SSB DXCC, QRP DXCC, Diamond DXCC, a 2,000 medallion for DXCC Challenge, and WAZ. Specifically, I've worked 349 countries overall, with 337 on SSB, 340 on CW, 331 on digital (including 257 on JT65, JT9, FT4 and FT8) and more than 200 on QRP.
Licensed as a Novice in 1961 as WNØAPN, I received my General Class license in 1962 and became WAØAPN. I upgraded to Extra Class in 1976, and my callsign has been KØXB since 1977. I am a vice president and charter member of the Lake Vermilion DX Association. Also, I belong to the American Radio Relay League, the Northern Minnesota DX Association, the Minnesota Wireless Association, the San Diego DX Club and the Twin Cities DX Association. In September 2013, The Gray Line Report, the newsletter of the Twin Cities DX Association, published a profile of me (which I wrote). Here it is.
At home, my wife Liz and I enjoy cooking and exploring California wines. We also had the pleasure of driving two different MGB/GT sports cars for years.
I can't help but include a special link. Click here.
          Please QSL via Logbook of the World or eQSL. If not, you can send your cards to my callbook address. I don't use the bureau.
73, Richard J. Borken, Ph.D. ("Rick")
E-mail to: KØXB
Click here to go to the NASA SOHO (Solar and Heliospheric Observatory) spacecraft homepage.
---
Page updated August 4, 2022
Copyright © 2002 – 2022 Dr. Richard J. Borken. All rights reserved.